Looking for a perfect Valentines Day gift for your spouse on a budget? Well look no more because here's a list of 10 wonderful free and inexpensive Valentine's gift ideas.
It's already hard enough to always find the perfect gift for your spouse but it's even harder when it's just not in the budget. There's absolutely no need to go into debt to show your love. The most valuable gift doesn't always have to be the most expensive gift. A more thoughtful gift will be more memorable and appreciated.
1) There's so much you can say…..

Put all your feelings into words and write a thoughtful Valentine's day card. Keep it original and creative and make your own Valentine's card. Many times we never really express how much we value, appreciate and love our spouse, especially with small children or both being a working couple. Put a little humor and sass into it and I'm sure you're spouse will enjoy it a lot more than a hallmark card.
2) Breakfast in Bed….
It'll be a great start to a perfect Valentines Day. Who wouldn't love to be woken up with their favorite breakfast being served in bed. Or even if you just wake up before your spouse and have their cup of coffee already made. Nothings more appreciated then a smooth and easy morning, it will set the mood for the entire day.
3) Wine and Dine…
Create your own private dining in the comfort of your home. After the kids are down for bed pull out all the bells and whistles set the table dim the lights and have music playing low in the background. You can also get your spouse involved and cook together it'll be a treat for the both of you. But if your looking to just spoil your spouse, prepare one of their favorite dishes or order in from one of their favorite restaurant. This is definitely a nice affordable way to wine and dine your spouse for Valentine's Day.
4) Coupon Book…
Put together a coupon booklet for your spouse giving them a few freebies for the year, 12 things they can cash in with you once a month. Include things such as a full body massage given by you. Or a half a day of leisure away from the house and kids a chance to catch up on some "me time" guilt free. Customize these 12 things to your spouses interest, it's one of the most perfect Valentine's Day gift idea.
5) Favorite Dessert or Treat….
Make your spouse their favorite sweet treat and put it together nicely. No need to spend $30-$50 on chocolate covered strawberries when a bag of chocolate melts cost $2.50 at the store and strawberries are under $5. Make your own fruit arrangement for your spouse. Cookies and brownies are always a quick easy and cheap treat to make as a Valentine gift. Make a batch and package it nice in a box or even on a dish you might already have and it's guarantee to be an appreciated gift to enjoy.
6) Use your talent….
If you have a nifty talent that your able to use to create a unique memorable gift such as writing a poem or if you can sing a song. If your artistic, paint a painting it'll be one of kind. You can even put together a photo album of great times shared together and insert quotes or your personal thoughts.
7) Movie Night….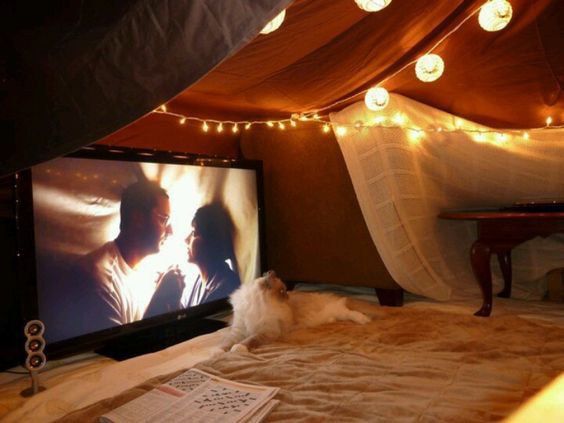 You don't have to physically go to the movies to have a movie night. Once the kids are asleep it's mommy and daddy time. Get all your favorite snacks, a good movie and maybe even some take out. Cuddle up on the couch and enjoy each other company as you relax and indulge.
8) Under the Stars….
Have a nice night out under the stars in your back yard or on your balcony or porch enjoy some time outside. It can be as simple as having a glass of wine with cheese, crackers, and grapes. It will be great one on one time for the both of you to talk with one another and connect romantically. Maybe share a dessert under the stars that will create a romantic moment. Always remember to set the mood, candles, nice lighting and music. If your able to set a fire then your for sure in for a lovely night.
9) His or Hers pick….
Jot down a few thing you can do for your spouse (wink, wink) on little pieces of paper fold them up and put into a jar, have your spouse pick one at different times throughout the night. Something to spice up the night and make things a little more interesting then your average night together.
*Ideas of things to include back rub, feet massage or bubble bath.
10) Game night….
If your spouse enjoys being entertained rather than being spooned and sitting around then consider having a game night with just you two. Make a few cocktails and play a card game like Uno or maybe Yahtzee. It's all about enjoying each other company and the time you spend together. Let loose and have fun.
Many people will spend hundreds of dollars on Valentines Day trying to get the perfect gift so they can wow their spouse. There's no need to spend unnecessary money when there's so many other option for showing your spouse how much you love and appreciate them. You can give your spouse a nice memorable gift with way more value than any expensive gift for little to no cost. Hope these were helpful Valentine's Day gift ideas for your spouse on a budget.
https://www.walmart.com/ip/Wilton-Royal-Blue-Candy-Melts-Candy-12-oz/769717043?selected=true